Hi everyone! I'm super excited because I gave my blog got a face-lift yesterday, whoohoo!
Here's how it looked before yesterday:
I loved my old design but wanted something a little more bold. I still need to tweak a few things though. I love playing around with my blog design. I'll be the first to admit I really have no clue what I'm doing, but it's so fun to learn as I go!
I don't know why the new header doesn't look white, even though it was white when I created it in
picmonkey
. It's driving me nuts! Anyone have any ideas?? (
Sarah
, this means you, hehe.)
Oh and my goal is to update my picture soon. Maybe this weekend I'll have Tony take one...if I have a free moment to brush my hair, that is.
Here's my new button, let me know if you want to swap!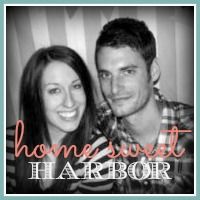 Happy Wednesday!